Product Manufacturing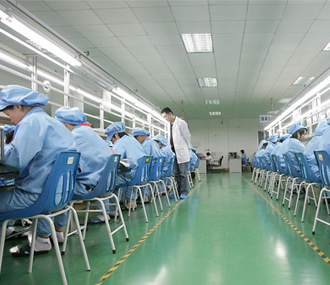 Leivaire's strength lies in not only our concept and design ability, but also within our strong manufacturing capabilities.
We have multiple manufacturing bases in China. In these factories, we take pride in our advanced machinery and equipment, high product quality, rich technical experience and one-stop service in our industrial supply chain.
Leivaire has succeeded in reducing its dependency on third party vendors. This ensures that our clients receive the best quality products at the lowest cost. Most importantly, this allows us to minimize the time to bring an idea to the marketplace.
At our advanced facilities, strict quality control and different production lines, allow Leivaire to produce products for customers in a timely manner.
Sensible location layout
Our production base is located in some china's most important manufacture areas to satisfy clients' different requirements.
Effective cost control
China has cost advantages as well as a global manufacturing base. Production cost is reduced and price is competitive since we carry out our further scientific resources planning program such as finance and raw materials, modern human resource management and effective performance measure mechanism
Large-scale production ability
Leivaire can coordinate and arrange production schedule centrally based on different factories' production characteristics and time sheets. With more moulds investment, it can fully guarantee smooth large-scale production and timely delivery of goods in good quality.
Stringent quality control
Leivaire does not sacrifice quality at the expense of cost. We invest heavily in quality control using AQL standard. Thus our equipment and machines in factories are very advanced and our team of quality control is very professional.